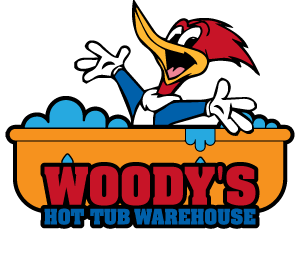 Premium Hot Tubs and Swim Spas
Come on in for a private test soak today! Showrooms in Albuquerque and Santa Fe.

Fireplaces and Pellet Stoves
We appreciate superb value and energy conservation.  We have the perfect solution whether your looking for a pellet stove, fireplace or a fireplace insert.
Pool Tables and Billiards Supplies
It's time for a break—with a cue ball that is. Signature craftsmanship and good sportsmanship are items needed for high-stakes games or family-fun.

Premium Hot Tubs and Swim Spas
Browse our selection of premium hot tubs and swim spas below. Not finding what you want? Contact us – we're always happy to assist.

If you are just beginning your research or have been looking for a while, now is the perfect time to get a quote on the hot tub model of your dreams. AMERICAN WHIRLPOOL® offers hot tubs in many shapes and sizes. From our smaller models up to our large swim machines; find the hot tub that fits into your life.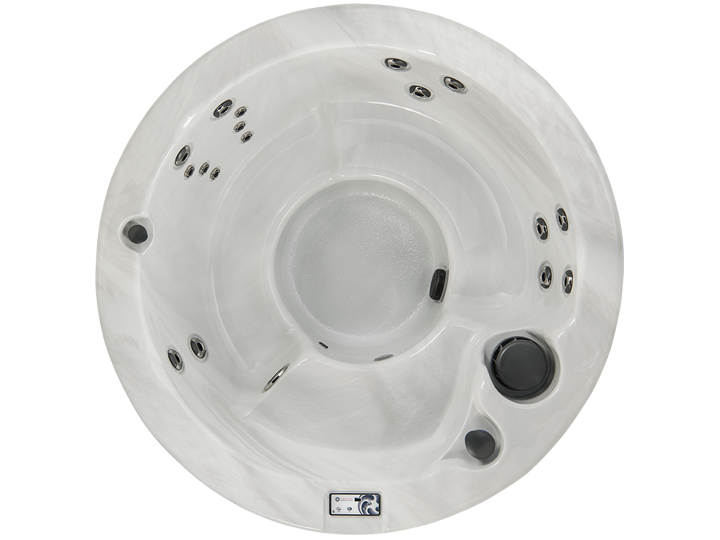 Model 100
| | |
| --- | --- |
| Dimensions | 76″ diameter |
| Depth | 36″ |
| Capacity | 4 |
| Water Capacity | 200 gallons |
| Weight | 440 lbs / 2,133 lbs |
| Total Jets | 18 |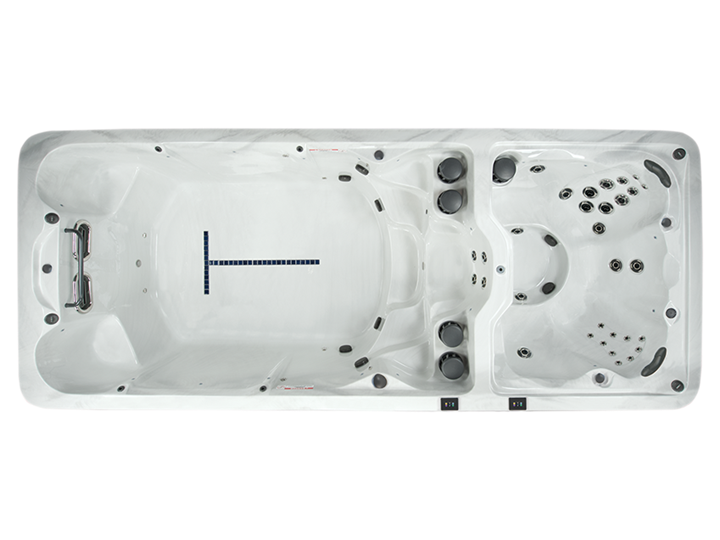 Swim Spa DM8
| | |
| --- | --- |
| Dimensions | 218″ x 90″ |
| Depth | 53″ |
| Capacity | 8 |
| Water Capacity | 1,615 gallons |
| Weight | 3,000 / 19,574 lbs |
| Total Jets | 33 |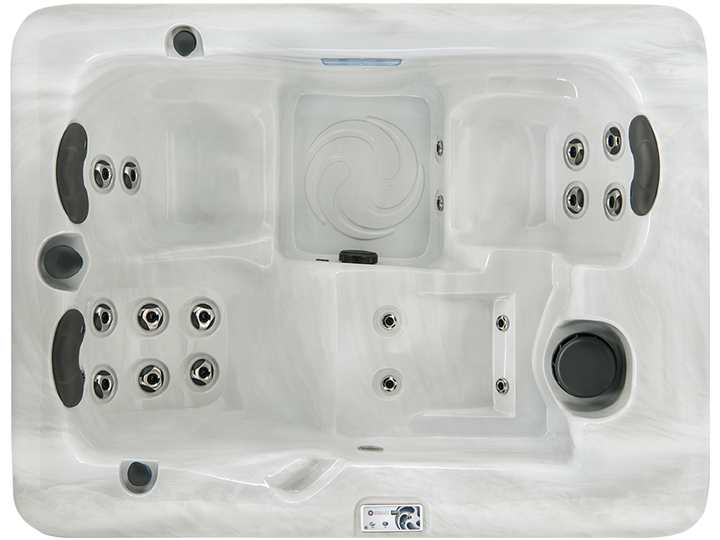 Model 151
| | |
| --- | --- |
| Dimensions | 83″ x 63″ |
| Depth | 30″ |
| Capacity | 3 |
| Water Capacity | 192 gallons |
| Weight | 430 lbs / 2,422 lbs |
| Total Jets | 20 |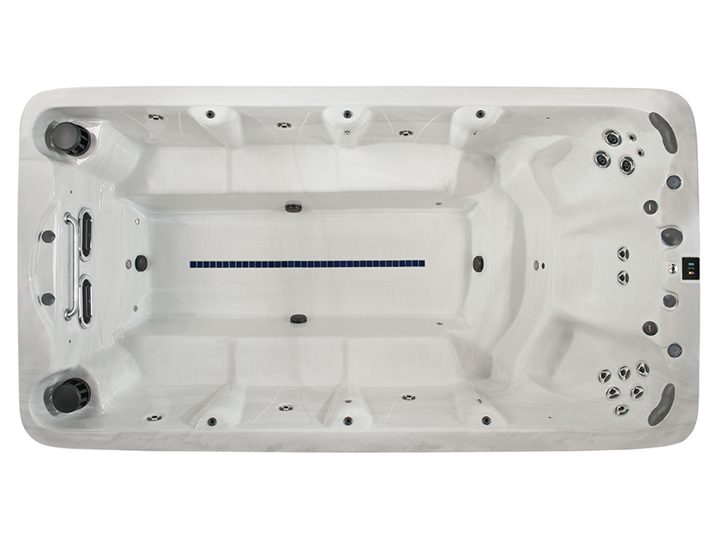 Swim Spa MB4
| | |
| --- | --- |
| Dimensions | 168″ x 90″ |
| Depth | 50″ |
| Capacity | 9 |
| Water Capacity | 1,150 gallons |
| Weight | 2,200 / 11,400 lbs |
| Total Jets | 26 |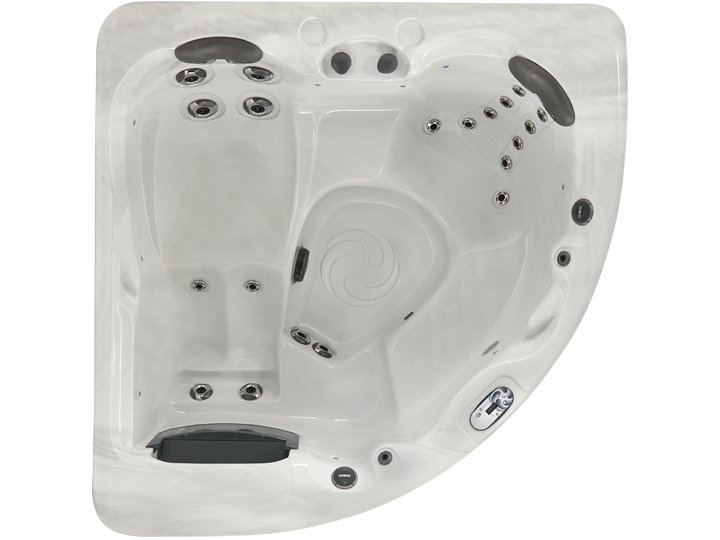 Model 261
| | |
| --- | --- |
| Dimensions | 72″ x 72″ |
| Depth | 33″ |
| Capacity | 2-3 |
| Water Capacity | 242 gallons |
| Weight | 435 lbs / 2,253 lbs |
| Total Jets | 24 |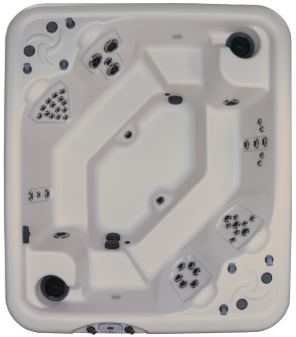 Rendevous LS
The Rendezvous LS™ defines Affordable Luxury by giving you all the value but at half the cost of other similar models. Ease of operation and simplicity of design will make this tub your favorite place to be.
Take home a Rendezvous LS™ and make your backyard the meeting place for your family!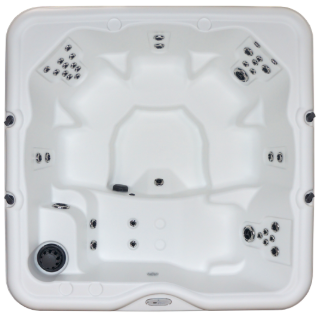 Encore SE
Settle into your Encore SE™ and let the cares of the day drift away as you relax in swirling hot water.
Recline in our No-Float™ lounger and let the Nordic Star™ jet action target your back, legs and feet to rejuvenate your body and spirit. Emerge from a hot water session in your Encore SE™ relaxed and with renewed energy!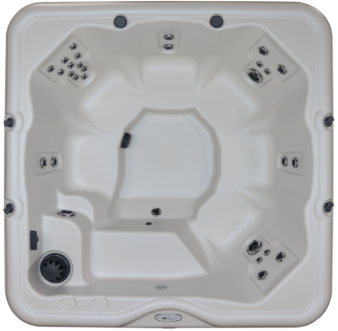 Jubilee MS
The Jubilee MS™ is your Affordable Luxury!
Relax in gently bucketed seats and let the swirling water wash over your whole body with luxuriant hot water therapy. The powerful massage will un-knot muscles and relieve tension allowing you to refresh and renew!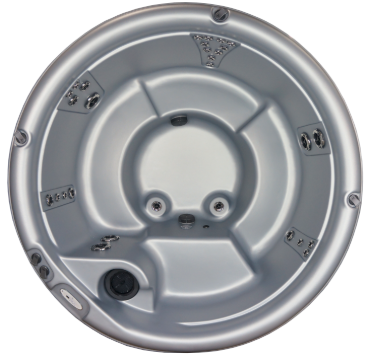 Crown XL
Reigning as top of the line design for Nordic's Classic Series Round hot tubs, the Crown XL™ will delight you with its power and graceful design.
Easily enter this tub using the generous step-in/cool-down seat and settle in to all encompassing, soothing hydrotherapy. Engage the double Nordic Star™ whirlpool jets for a magnificent, whole-body, hot water experience for total relaxation.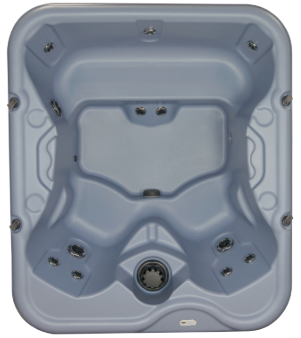 Retreat 110v
An exceptional Plug-N-Play model, the Retreat All-In-110V™ provides all the therapeutic benefits you need plus all the features and benefits you expect from a Nordic!
With our Nordic Wrap and Nordic Clean ozonator installed as standard options, the Retreat All-In-110V™ is perfect for individuals, couples or families.

Since 1995, Nordic has led the industry in providing high quality, therapeutic hot tubs. A Nordic Hot Tub is the perfect balance of hydrotherapy at a cost-effective price.
Nordic's DTS™, or Dual Therapy System, is exclusive to Nordic Hot Tubs and combines high flow water movement with a circular motion, to massage parts of the body that are forgotten in competitors' spas. The combination of high flow water and individual jet therapy DTS™ provides is the perfect balance of active and passive muscle and joint relief.

Every Tuff Spa comes with a lifetime guarantee. This durable one-piece spa is made of an advanced polyethylene material that will endure any climate on Earth. From the extreme heat of Arizona to the salty air of California. To the snows of Alaska, Tuff Spas offers a simply durable spa that will last a lifetime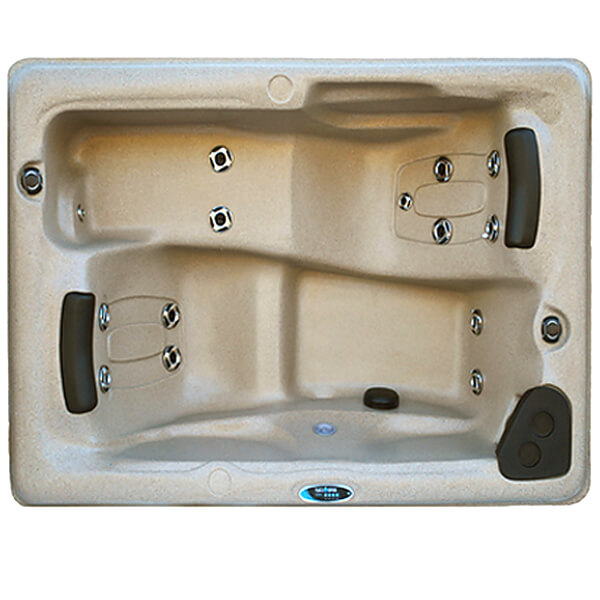 TT 150
Tuff Top Cover Available
Seats 2 Adults
77″L x 52″W x 27″H
150 Gallons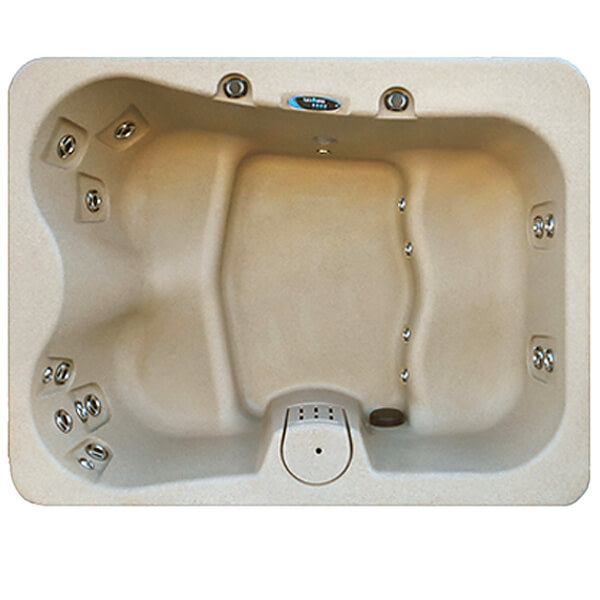 TT 250
Specifications
Tuff Top Cover Available
Seats 2-4 Adults
77″L x 60″W x 29.5″H
250 Gallons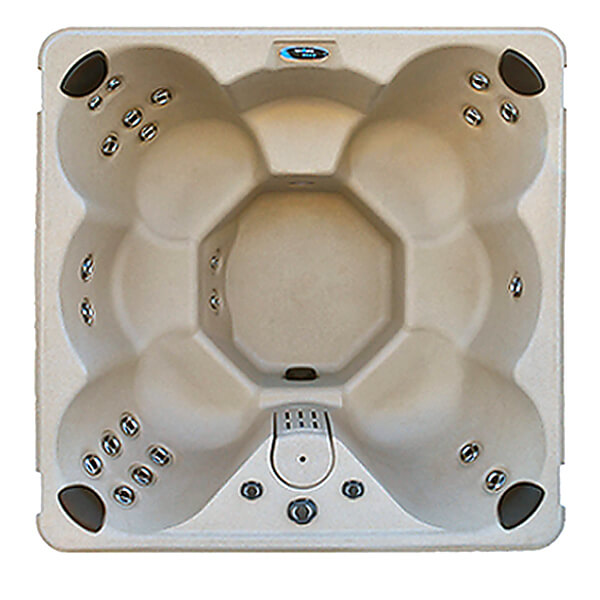 TT 450
Specifications
Tuff Top Cover Available
Seats 4-7 adults
77"L x 77"W x 35"H
350 Gallons
Light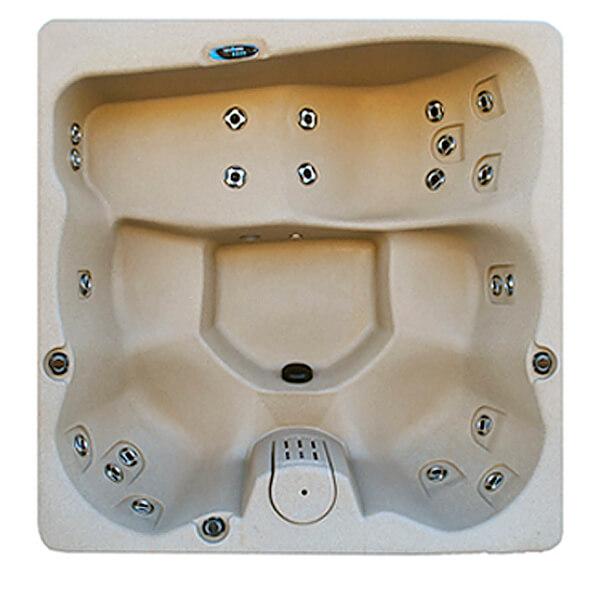 TT 650
Specifications
Tuff Top Cover Available
Seats 4-5 Adults
77"L x 77"W x 29.5"H
300 Gallons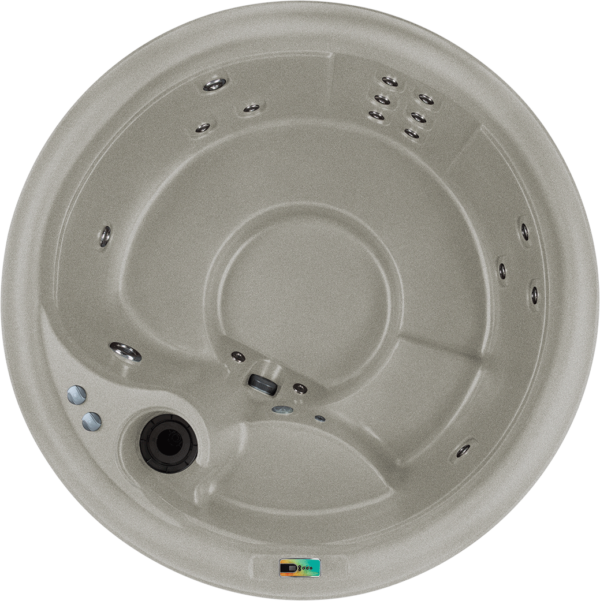 Splendor
The Splendor features barrier free seating perfect for a solo soak or conversing with five of your closest friends. The built in diverter valve allows you to get a personalized massage from the jets or enjoy the whirlpool feature. Feel your tension melt away as you satisfy your senses by watching the multicolored LED light illuminate the warm water.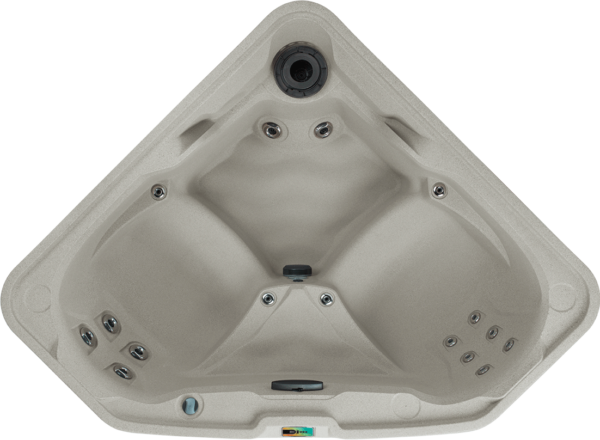 Embrace
The unique shape of this hot tub allows it to fit perfectly in tight spaces. Although small in layout the Embrace does not sacrifice quality. It features seventeen jets (including wrist and foot jets) that deliver a personalized strong massage. In addition it includes a cool down seat and plug-n-play technology which means no electrical hard-wiring is required.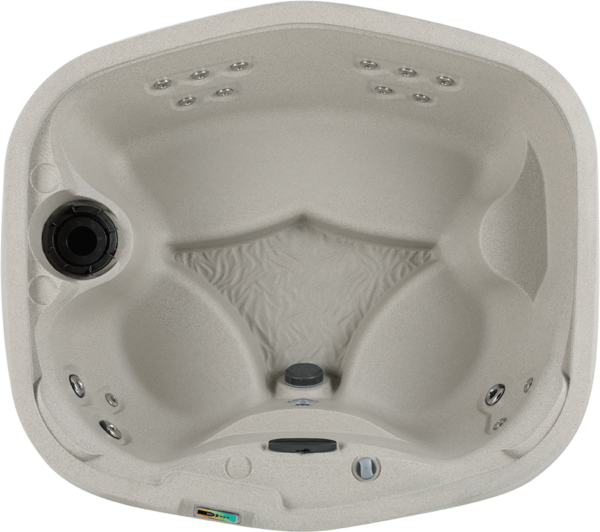 Drift
The compact Drift brings you maximum comfort without sacrificing quality. Sit back and relax as the 17 jets massage your stress and tension away. The open barrier bench seating makes this spa perfect for friends or families who like to socialize. This backyard oasis comes with a built-in cascading waterfall and multi-color LED light surely to relax your muscles and your mood.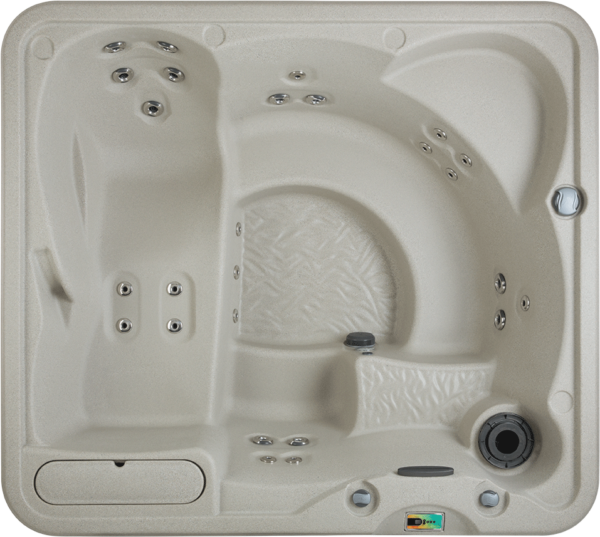 Entice
Stretch out with friends or loved ones in the largest hot tub model in the Fantasy line up. With its comfortable layout featuring a deep sitting lounge and open bench seating its roomy enough to fit up to five adults. This model also comes with a molded in ice bucket that will keep all of your drinks cool while you enjoy your soak. Kick up the ambiance a notch with the waterfall and multicolored LED light.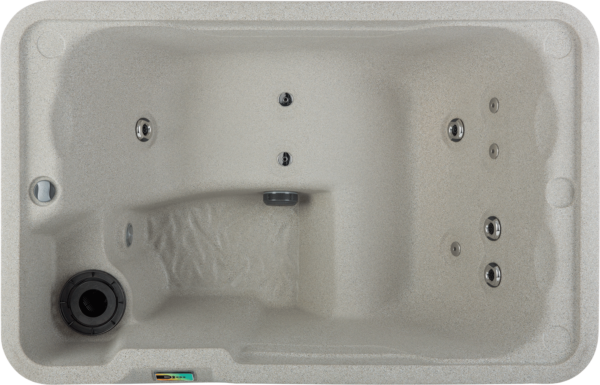 Aspire
Turn any space into a private oasis with this small hot tub. Couples or singles can melt away tension in this roomy two-way lounger. This hot tub is perfect for balconies and fits through any standard doorway. The removable accessory tray acts as a table allowing you to bring a stereo or games into the hot tub as the jets massage your muscles. Simply fill it with a nearby hose, plug it into any standard 110v outlet and enjoy!
We make quality hot tubs that are affordable and simple to install – meaning they can plug in to a normal outlet. That's right. You don't need fancy wiring or additional plumbing. These babies are ready to go!
Above Ground Pools and Swing Sets
Woody's Hot Tub Warehouse offers above ground pools and swing sets to provide fun for the whole family. Your family will fall in love with your backyard all over again!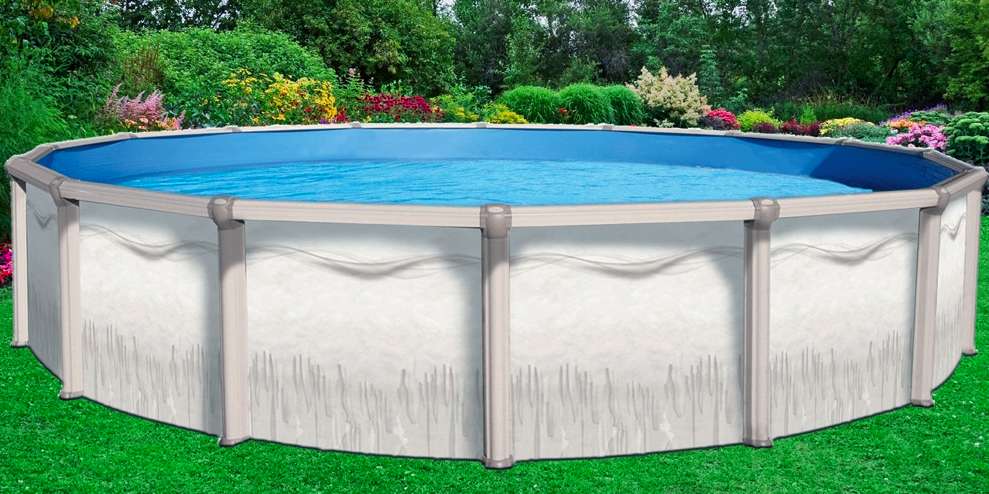 Woody's Hot Tub Warehouse Blog
Tips, Articles and Info on Hot Tubs, Swim Spas and Accessories
After a strenuous workout, is there anything to be gained from soaking in a spa? If you prioritize health and fitness, and want to get more from your workout, here's how to safely use the hot tub to ease pain and promote muscle recovery. Cool Down,...
read more
Albuquerque Showroom
7550 Pan American Fwy NE Albuquerque, NM 87109
(505) 856 1530
Monday – Saturday: 10:00am – 5:30pm
Sunday: 12:00 – 4:00pm